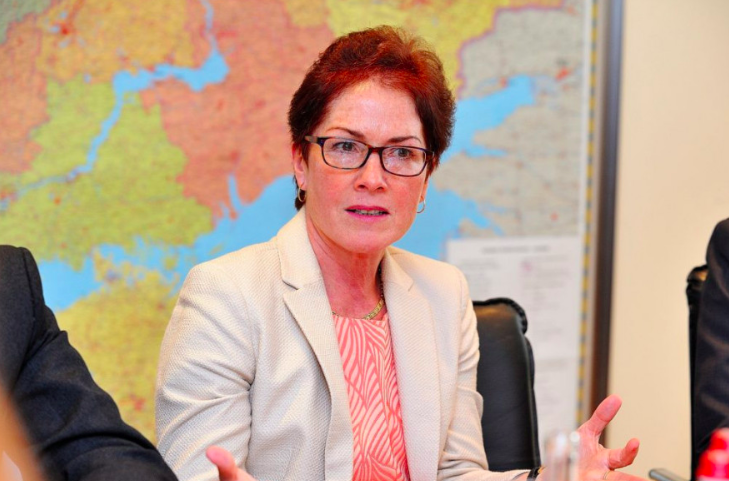 Wednesday, May 8
US Ambassador Leaves in Two Weeks – No Successor Named...Future UK Ambassador Worked a Decade in Development...Outgoing Korean Ambassador Says Hyundai To Bid on Kharkiv Metro...Used Imports Flood Car Market...Kolomoisky Airline Wins Odesa-Tel Aviv Route
Leaving two months early, US Ambassador to Ukraine Marie Yovanovitch is to complete her three-year tour on May 20, with no successor in sight. On May 28, Kristina Kvien is to arrive to serve as the new Deputy Chief of Mission.
Recently, when US media attention was focused on the Mueller report on Russian interference in the 2016 US election, some Trump supporters campaigned against Yovanovitch as an 'Obama appointee' who colluded in a Poroshenko effort to help Hillary Clinton in the presidential. In reality, Yovanovitch, a career foreign service professional, arrived in Ukraine in late August 2016, about 10 days after The New York Times published an article detailing secret payments by the Yanukovich government to Paul Manafort. The story immediately led to Manafort's resignation as Trump's campaign manager and, eventually, to his conviction last summer on eight charges of tax and bank fraud.
Timothy Ash writes from London: "Yovanovitch did a decent job – her only "crime" was speaking out for more efforts from the Poroshenko administration to fight corruption…Yovanovitch seems to have got caught in the cross-wires of the domestic political debate in the US… This leaves Ukraine with an inexperienced incoming president – less able now to draw on the experience/connections of a sage US diplomat…. This is a big loss for Ukraine, and it is a clear signal where Trump's priorities lie – more in normalizing the relationship with Russia, than supporting allies such as Ukraine."
Melinda Simmons, a British diplomat with a decade of experience in international development, is to arrive in Kyiv this summer as Britain's new ambassador, succeeding Judith Gough. Until 2013, Simmons served as an alternate member of the Board of the European Investment Bank, a major source of infrastructure funding for Ukraine. Noting that her mother's grandfather worked in Kharkiv and Kyiv, she tells London's Jewish Chronicle news site: "The idea that you would come back to a country that your family felt the need to leave, and in such a positive way… is something that is both personally meaningful to me and my wider family."
South Korea's outgoing ambassador heard a pitch from Infrastructure Minister Volodymyr Omelyan that Hyundai should build an electric car factory in Ukraine. In response, Amb. Lee Yang-goo said Hyundai plans to build on the success of its Rotem trains on Ukraine's InterCity service and participate in a tender for 85 new subway cars for the Kharkiv Metro.  The EBRD and the European Investment Bank are financing half of the €320 million metro expansion project.
With EU's electric car market booming, Omelyan says that if lawmakers pass bills to stimulate the electric car and battery industry, "the next day we send a delegation to Tesla on construction of their first European plant in Ukraine." Ukraine has Europe's largest known supplies of lithium, a key imponent for car batteries. A Tesla battery weighs 540kg, giving Ukraine a supply advantage for Europe, argues Omelyan.
First time registrations of used imported cars totaled 207,000 for the first four months of this year, eight times the number of the same January-April period last year. By contrast, 25,300 new passenger cars – all imports — were registered during the same period, 3% fewer than during the first four months of last year. The flood of used imports is due to lower taxes in Ukraine and growing restrictions in Germany against diesel cars. Of new registrations of used imports, 53% were for diesels, according to Ukravtoprom, the industry association.
During the first four months of this year, 822 people were killed and 7,804 injured in 47,445 traffic accidents, reports Alexei Beloshitsky, first deputy head of the Police Patrol Department.  About one third of accidents are caused by speeding. Since the current holiday season started on April 26, there have been 3,200 arrests for drunk driving. With EBRD support, the Infrastructure Ministry is investing in road safety, aiming to cut traffic fatalities by one third by the end of next year. There are now 75 speed cameras working on national highways.
Analysts from JP Morgan and UBS predict that political maneuvering in advance of parliamentary elections will delay Ukraine's receipt of a second IMF tranche this year. "PM Groysman clearly signaled that he is moving away from IMF requirements as he announced he will be running in parliamentary elections," JP Morgan economists Nicolaie Alexandru and Trang Nguyen write in a note. "Both Zelenskiy and most politicians are likely to call for populist measures rather than IMF-required reforms." Separately, analysts at Swiss investment bank UBS predict that if the Rada does not approve new anti-corruption legislation, this summer's $1.4 billion IMF tranche will be delayed.
After 15 years in Moscow, Morgan Stanley Bank plans to end banking activities in Russia early next year, the New York-based bank says in its annual report. Morgan Stanley cites the impact of Western sanctions and the "ambiguous interpretation" of laws in Russia. "The group plans to abandon banking, brokerage and depositary licenses and voluntarily liquidate the relevant business units," the bank said, according to RBC.ru. In 2015, Royal Bank of Scotland ceased operations in Russia, followed in 2016 by Barclays. Deutsche Bank and Credit Suisse have significantly reduced their business.
Three weeks before a pedestrian-bicycle bridge is to be inaugurated connecting Volodomyrska Hill and the Friendship of Nations Arch, the executive of a Swiss architectural firm says she was never paid for the design. "The basic concept, the basic principles of design, the form, the constructive solution, and the materials were taken from our [2013] project," Stephanie M. Schafroth, founder and principal of Zurich'sLeuppi & Schafroth Architekten, tells the Nashi Groshi TV program. Schafroth said her firm's cost estimate was $6 million, 64% below the bridge's cost of $10 million. The 210 meter long, glass floored bridge is to be inaugurated on May 26, Kyiv Day.
Does the State Aviation Administration follow the election returns? On Tuesday, the commissioners turned down applications by SkyUp and AtlasJet Ukraine to fly Odesa-Tel Aviv. It decided to award the route to Windrose Airlines. The principal beneficiary of Windrose is believed to be Igor Kolomoisky. Currently residing in Tel Aviv, Kolomoisky was the primary backer of Zelenskiy in his successful presidential campaign.